The Outstanding Achievement in Agriculture Award is the highest award given by the Governor to honor distinguished Oklahoma agriculture producers. This prestigious award honors leaders in the agriculture industry who exemplify personal values, performance, and achievement. Nominee's should have high standards of conduct, leadership, innovation, and accomplishments in agriculture and should be a role model for Oklahoma agriculture's young people.
The Oklahoma Department of Agriculture, Food and Forestry released applications for the 2021 Governor's Outstanding Achievement in Agriculture award on January 13th and will be accepting applications until 5:00 p.m. Friday, February 22nd. Applications can be mailed, or hand delivered to Tandy Kidd at 2800 North Lincoln Blvd. Oklahoma City, Ok 73105
The winner will be honored on Oklahoma Ag Day at the State Capitol on March 23, 2021. The honoree will be inducted into the Agriculture Hall of Fame located at the Oklahoma Department of Agriculture. Download the application here.
For more information contact:
Tandy Kidd, Special Projects Coordinator
Tandy.kidd@odaff-staging.kochcomm.dev
405.534.0417

2021 Agriculture Hall of Fame Inductee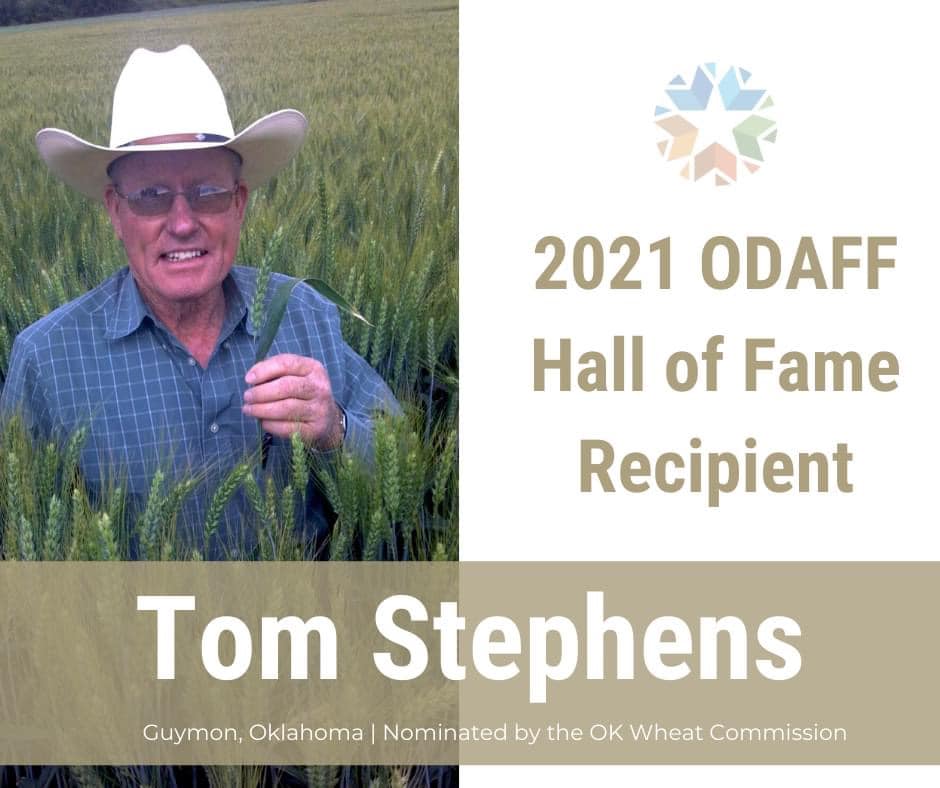 Stephens has worn countless different hats within the agriculture industry – FFA member, rancher, wheat farmer, rural servant and agriculture industry pioneer. Each of his roles within the agriculture industry have been vastly different, but one thing has remained constant: his passion for the industry, hard work and learning new things runs deep.
"I am exceptionally proud to represent all of our great Oklahoma farmers and ranchers, but we are especially excited to honor Tom Stephens this year as an outstanding agriculturist and service-minded citizen," Secretary of Agriculture, Blayne Arthur, said. "He has continually worked to improve our industry and we are proud to recognize him."
Stephens was nominated for this honor by Mike Schulte with the Oklahoma Wheat Commission. Schulte applauded Stephens for being a progressive agriculturist known for his commitment to his conservation practices and his selfless acts in giving back to the wheat industry time and time again.